Industry Landscape

The global communications and ICT industry has evolved at a very quick rate, led by rapid technological advances. As a result, consumer lifestyles world-wide have become increasingly digital focused, more so with the convergence and confluence of communications, multimedia and content.

In its wake, industry stakeholders globally have encountered many challenges, new business opportunities as well as threats. As a result, there is a need for policy, regulations, codes of conduct, industry specifications and norms to be revisited, enhanced or tweaked to better reflect these rapid changes. In tandem, the skills sets, competencies and knowledge bank of industry stakeholders and practioners will need to be addressed and gaps filled to keep up with these changes. This is the driver behind the collaborative effort between Multimedia University (MMU), GSMA and Malaysian Communications and Multimedia Commission (MCMC) in designing two programmes on 'Converged Telecommunications Policy & Regulations' to address the capacity needs of the globalised and converged communications and ICT industry.


About the CTPR Master Class

The Professional CTPR Master Class is designed to offer mid to senior level executives in national regulatory agencies, relevant government ministries, telecommunication service providers, broadcasters, equipment manufacturers/vendors in the Asia Pacific Region a holistic and up-to-date world view on all matters related to the converged telecommunications space. This intensive two week programme brings together an international collaborative network of academics, institutions, and industry experts to highlight current global approaches to these issues.

This programme is a first of its kind in the Asia-Pacific region. Upon completion of this Professional Programme, participants will be awarded a Certificate endorsed by all three parties – MMU, GSMA and MCMC.

Modules That Will Be Covered in the Professional Master Class (2 Week Programme)


Principles of Telecommunications Policy
Economic and Social Policy and Regulations
Internet Governance
Emerging Perspectives in Policy & Regulations
Spectrum Management
Network & Digital Economy
Intellectual Property Rights
Data Enablement Framework & Big Data Analytics
New Directions in Digital Services
Business Strategy for Telecommunications Industry
Creative Content Industry
Network Security and Forensics
Social Research Methods
Research Advances in CTPR
Structure of Master Class Delivery

An intensive blended learning & interactive course covering:




About the Converged Telecommunications Policy & Regulations Masters Degree Programme (MCTPR)

The convergence of the communications industry globally through the seamless integration of communications, multimedia, applications and content has brought about tremendous influence and change to our lifestyles. This has delivered immense opportunities, innovation as well as complex policy and regulatory challenges to industry stakeholders world-wide.

Knowledge, skills and competencies of industry stakeholders will need to be addressed, hence, there is a need for a course/programme at the post-graduate level that will offer an in-depth analysis of trends, policies and the development of regulatory frameworks touching on various industry related matters such as converged telecommunications, resource allocation, universal service, spectrum management, quality of service, security, competition, creative content industry, Internet governance and regulation, over-the-top applications, network and digital economy, intellectual property rights, management of big data, and the like.


Course Structure of MCTPR Programme (1 Year Full-Time, 2 Years Part-Time)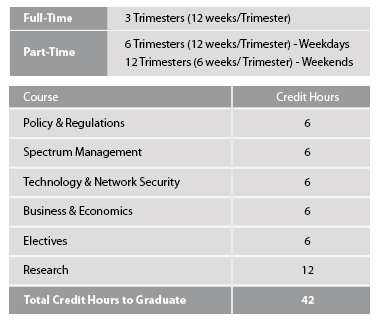 Structure of MCTPR Programme Delivery
Blended Learning Approach comprising 50% Face-to-Face, 50% Online
Programme Entry Requirements
A Bachelor's Degree with minimum CGPA of 2.50 or equivalent with 4 years working experience
A Bachelor's Degree with minimum CGPA of 3.00 or equivalent with 2 years working experience
How Do I Register for The Programme?
Please refer to our Contact details.
About GSMA
The GSMA unites nearly 800 operators with more than 250 companies in the broader mobile ecosystem, including handset and device makers, software companies, equipment providers and Internet companies, as well as organisations in adjacent industry sectors. The GSMA also produces industry-leading events such as Mobile World Congress, Mobile World Congress Shanghai and the Mobile 360 Series conferences. The GSMA's Capacity Building programme works with partner organisations to deliver high-quality training to students and regulatory professionals.
About Malaysian Communications & Multimedia Commission (MCMC)
MCMC implements and promotes the national policy objectives for the communications and multimedia sector in Malaysia. It is charged with overseeing the regulatory framework for the converging industries of telecommunications, broadcasting and online activities in accordance with the national policy objectives set out in the Communications & Multimedia Act 1998 (CMA). MCMC also has the responsibility for postal services and digital certification under the Postal Services Act and the Digital Signature Act 1997 respectively. The Act provides that MCMC undertakes a policy implementation role, while policy decision making is vested with the Minister.
About Multimedia University (MMU)
Established in 1996 as Malaysia's first private university, MMU offers a full range of undergraduate and postgraduate degree programmes in Law, ICT/IT, Creative Multimedia, Cinematic Arts, Engineering, Management, Business, Accounting and Banking and Finance across its three campuses in Malaysia. MMU hosts over 18,000 students, of whom, over 1,500 are international students representing more than 70 countries. Currently
www.topuniversities.com
ranks MMU as a Top 200 World University by Subject in Electrical and Electronic Engineering, and as a Top 250 World University by Subject in Computer Science and Information Systems. The list also infers MMU as one of Asia's Top 10 Private University in Engineering and ICT/IT. In 2014, it was voted as one of Asia's best private educational institutions by World Consulting & Research Corporation (WCRC).