Information Landscape

The age of Smart Cities and Communities is now upon us. Rapid urbanisation along with the increasing digitisation of our everyday lives is making the development of smart cities and communities not just unavoidable, but highly desirable. Unsurprisingly, it is now a key consideration for our urban planners, local councils and property developers. It is no longer a question whether we should adopt smart city policies and programmes, but rather how we can best drive the creation of efficient and successful smart city developments that deliver real benefits to urban dwellers.

Mass migration of inhabitants from rural areas to urban centres in search of employment opportunities and a better way of life is putting untold pressures on city administrators and local councils. They need to plan carefully for this rapid growth of urban populations to ensure the most efficient day-to-day management of issues such as mass transportation, traffic optimisation, utilities performance, energy consumption, waste disposal, safety and security, infrastructure maintenance, customer services, revenue generation and more. The introduction of smart services, solutions and applications also raises questions about the optimal business models for the effective implementation and ongoing management of smart cities.

Unfortunately, these pressures also highlight that a knowledge gap has opened up among key industry stakeholders, including local councils, state and federal governments, regulators, property developers, urban and town planners, architects, solutions providers, telecommunications companies and many others. This knowledge gap relates not just to the core ecosystem of smart cities, but also issues around the economics, business models and governance of smart cities.



How Do We Address this Knowledge Gap?

The Converged Telecommunications Policy and Regulations (CTPR) Professional Master Class in Smart Digital Nation, Cities and Communities (SDNCC) is designed to plug this knowledge gap through capacity building. It will bring a range of international and local industry experts, as well as implementers, to the table to discuss, rationalise and share knowledge related to the latest developments in smart cities and smart communities. This intensive three (3) day programme will consist of presentations, strategic panel and round table discussions. It is a programme that has been carefully crafted to address the most pressing issues faced by those in the industry.


About the CTPR Professional Master Class:
Smart Digital Nation, Cities and Communities (SDNCC) - Enabling Smart Cities with IoT via Disruptive Business Models

This programme is organised by Multimedia University (MMU) in collaboration with the Malaysian Communications & Multimedia Commission (MCMC) and the GSM Association (GSMA), London, UK.

The CTPR Master Class is the only programme of its kind to be offered in the Asia-Pacific region.

Below is an outline of topics that will be covered in the Professional Master Class SDNCC Programme;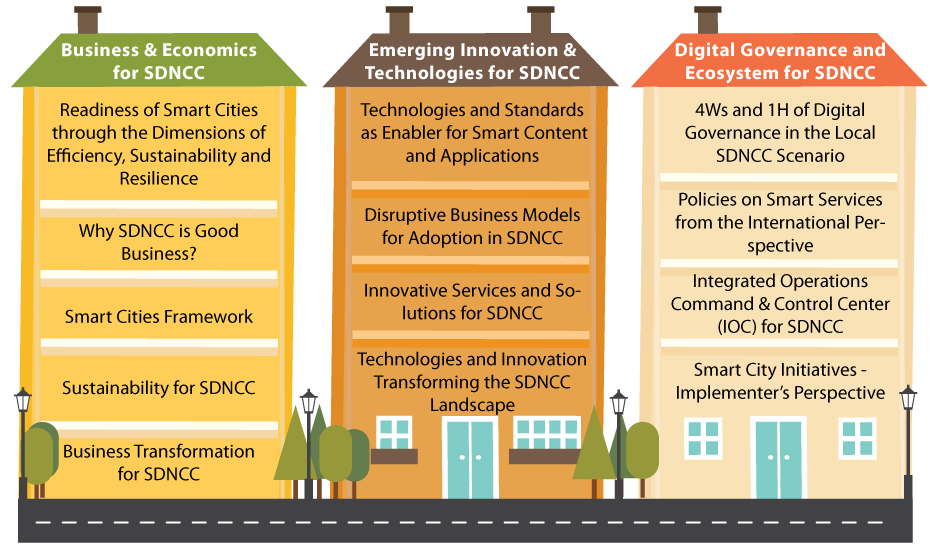 Keynote Lecture

Readiness of Smart Cities
by
Professor Matthias Finger
École Polytechnique Fédérale de Lausanne
Switzerland
Duration of SDNCC?

Three (3) Days


Who Should Attend?

Local Councils, State & Federal Government, Regulators, Urban & City Planners, Property Developers, Architects, Solutions Providers, Telcos, Equipment Vendors, Financial Institutions, Security Agencies, Transportation Providers, Smart City Communities, Academic Institutions and other related industry stakeholders.


Where Will This Programme Be Conducted?

Location : Level 18, Shaftsbury Asteria Convention & Meeting Centre, i-Tech Tower, Jalan Impact,Cyberjaya, Selangor, Malaysia.


About GSMA
The GSMA unites nearly 800 operators with almost 300 companies in the broader mobile ecosystem, including handset and device makers, software companies, equipment providers and internet companies, as well as organisations in adjacent industry sectors. The GSMA also produces industry-leading events such as Mobile World Congress, Mobile World Congress Shanghai and the Mobile 360 Series conferences. The GSMA's Capacity Building programme works with partner organisations to deliver high-quality training to students and regulatory professionals.
About Malaysian Communications & Multimedia Commission (MCMC)
MCMC implements and promotes the national policy objectives for the communications and multimedia sector in Malaysia. It is charged with overseeing the regulatory framework for the converging industries of telecommunications, broadcasting and online activities in accordance with the national policy objectives set out in the Communications & Multimedia Act 1998 (CMA). MCMC also has the responsibility for postal services and digital certification under the Postal Services Act and the Digital Signature Act 1997 respectively. The Act provides that MCMC undertakes a policy implementation role, while policy decision making is vested with the Minister.
About Multimedia University (MMU)
Established in 1996 as Malaysia's first private university, MMU offers a full range of undergraduate and postgraduate degree programmes in Law, ICT/IT, Creative Multimedia, Cinematic Arts, Engineering, Management, Business, Accounting and Banking and Finance across its three campuses in Malaysia. MMU hosts over 18,000 students, of whom, over 1,500 are international students representing more than 70 countries. Currently
www.topuniversities.com
ranks MMU as the 193rd-ranked university in all of Asia, a Top 200 World University by Subject in Electrical and Electronic Engineering, and as a Top 350 World University by Subject in Computer Science and Information Systems. In 2014, it was voted as one of Asia's best private educational institutions by the World Consulting & Research Corporation (WCRC).